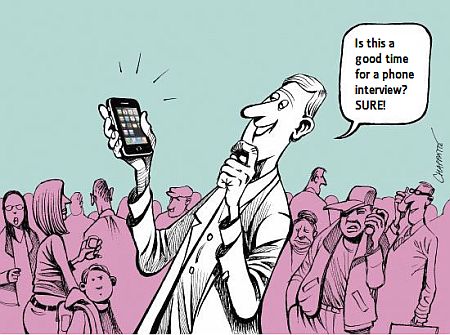 5 Tips For A Great Phone Interview
Phone interviews are a fairly common first step in the IT interviewing process. They strike fear in the hearts of many techies, but phone interviews don't have to be so daunting. Here are five easy tips for a great phone interview:
1)   Prepare in Advance: Google is every interviewee's best friend. Take some time before your phone interview to look at the company's website, the position you're being considered for and what other people have to say about that company online. This will give you a great frame of reference for your upcoming interview.
2)   Take Notes: It may have been a while since you were last in school, but you should never underestimate the power of note taking! One of the best advantages in your arsenal during a phone interview is the ability to have notes written down in front of you. Whether it's questions about the company culture you're dying to ask or a few specific experiences you want to remember to mention, having these visual reminders will help your phone interview run smoothly.
3)   Keep it Brief: Chances are the phone interview is not your last chance to make an impression with the hiring manager. It's important to make a great impression, but sometimes detailed answers can turn into tangents. If the hiring manager doesn't know where you're going with the point you're trying to make, it could reflect poorly on you. Use your notes to jot down concise yet descriptive answers to possible questions, and err on the side of brevity. They can always ask you for more information when you come in for an in person interview!
4)   Clear Connection, Quiet Surroundings: Nothing hurts a phone interview quite like technical difficulties. Weak connections, interference and background noises can frustrate hiring managers and fluster even the best IT professionals. Make sure you're in a quiet area with a reliable phone connection whenever your phone interview starts. If you're moving around, surrounded by background noise and your connection is fading your interview may hit some communication roadblocks. These will damage the natural flow of the interview and the hiring manager may get the impression that you were unprepared.
5)   Stand Up and Stay Focused: Clear communication is paramount when interviewing over the phone because, along with your resume, it's all the hiring manager has to go on. Standing up will help elevate your vocal levels and clear the path for an easy, productive interview. Another communication barrier that arises in phone interviews is a lack of focus. You may be having a great conversation and thirty minutes later realize you've mostly been discussing the fourth season of Game of Thrones instead of the value you could bring to the position. Remember to balance small talk, which helps the interviewer assess if you'd fit their company culture, with useful descriptions of your key skills and on-the-job experience.
That's it! When you take the steps to prepare and concentrate on what's important during a phone interview, you're more likely to snag an in person interview, then an offer, then your dream IT position. A great phone interview is the solid foundation your hiring process needs to be successful, and with these five tips it will be the best phone interview you've ever had!