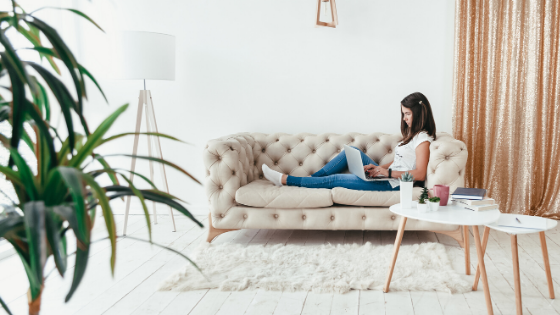 6 Tips for Working at Home Amid Coronavirus
Working from home has been a dream for many. However, now due to the coronavirus pandemic, it has become a forced reality that many companies and employees did not expect or prepare for. If you're like most of us, you're searching online for tips and tricks to help adjust to remote work. Below are a 6 tips for successfully working at home amid the corona virus:
1. Dress the Part: With no one around to impress and no meetings to attend, you may find yourself staying in your pjs and even going days without showering. In order stay motivated and keep yourself from binge watching your favorite tv show on the couch all day, we recommend dressing like you're actually going into the office. Even try wearing shoes, because let's be honest, your boss wouldn't like you walking around barefoot, right? This is a way to keep the line between work and relaxation crystal clear!
2. Create a New Routine That You'll Stick To: Try and wake up more than five minutes before your workday starts. Have your morning coffee. Exercise. Do what you would normally do to prepare yourself for the day both mentally and physically. Are you an overachiever, and feel that you might overwork yourself? Clearly define your work hours and stick to it! Take a lunch break, and other small breaks throughout the day. We recommend setting a 15 minute timer on your phone for some well deserved you time, and then get back to business!
3. Create a Distraction-Free Environment: Set up a dedicated home work space or several stations that you can move to throughout the day if you need slight changes of scenery. Pick a work space that ideally has a decent chair that will support your back. Also, avoid working from your bed. Keep your bedroom a sacred space for sleeping and relaxing, where work is banned. It'll create more clarity for your work life balance!
4. Ask What's Expected of You: Since remote work can be a new and scary thing for some employees, you may not have a solid grasp of what's expected of you during this time. Make sure you have a frank conversation with your boss, coworkers, clients, and customers about their expectations so you can make sure you're getting everything done and not letting something unwittingly slip through the cracks.
5. Make Sure You Have Stellar Internet Connection: Telecommuting and remote work often relies heavily on stable, stellar home internet connection. If you don't have great wifi, you may need to upgrade or switch your internet service to make sure it's reliable, fast, and easy to use while you work. Nothing is more frustrating than slow internet!
6. Practice Self-Awareness: One of the key elements of every successful telecommuting employee is a keen sense of self-awareness. If you know you need regular social interaction throughout the day, stay connected with co-workers through online chat options like Slack or Glip. Video conference with coworkers after hours if you usually met up at happy hour. Remote work doesn't have to feel lonely. Stay self aware of what you need to stay healthy, happy and productive!
While working from home seems like a dream come true for some, it requires focus and strategy. Once you understand what goes into successfully managing your time and workspace, telecommuting can be everything you hoped it would be. Just make sure you follow these 6 tips!