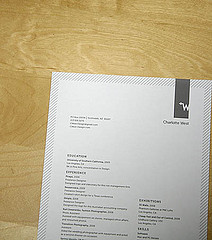 Writing the Perfect Resume
A resume is an important document, it stands between you and employment therefore it's imperative that you give it adequate love and attention. Before writing it up, know its purpose. Your resume plays a major role in landing you an interview, so there is a particular technique to writing it to ensure you're putting your best foot forward. You want to ensure the document not only lists your qualifications but also connects you to the reader as a person. You don't want it to sound like a boring, long list of your achievements so back it up with your personal qualities as well as strengths.
Make sure you choose your words wisely, since digital databases such as job boards look through candidate resumes according to certain keywords. The more often a keyword is reflected in your resumes the higher the chances your resume will come to the top of the list when a database is searched by hiring managers and recruiters. On the other hand don't over due it; you don't want to write an essay about your qualifications. When applying for jobs try and use the keywords used in the job description so your resume relates quickly to what hiring managers are looking for, but keep in mind, you never want to be dishonest. A brain surgeon eventually has to preform brain surgery, so the keywords must, of course, be relevant to your qualifications.
Make sure the job titles used are effective enough to put across the point. You don't need to make them 9 words long but they need to be descriptive enough that the employer understands at a glance. For example the title Java Software Engineer is preferred over Software Engineer. Proof reading is essential in developing a resume, since it's a document that will essentially be your identity in the professional world. Although you may not think so, even the smallest typo can be the difference between you getting hired or ignored.
Inclusion of professional goals is also a good idea, since you can show your employer how focused you are for the future. Having a plan is a good thing, it can show off how career oriented you are. This is something employers will look for, since they go for individuals who have the drive to move forward. Do not add generic professional goals on your resume that you feel might impress your employer into giving you a job. Another thing to specifically keep in mind is to provide contact information and references in your resume. Often, individuals are known to write "References available upon request" at the end of their resume, but if you're really serious about applying to an organization you will not exclude this information as your potential employer will probably not have time to hunt you down and ask for a reference.
You must also avoid any negative information about yourself. People want to write about their strengths but also include their weakness, which is only something to be discussed over a physical interview. Your negativity can potentially lose you the job. You must be precise, clear with your skills, put up information that is relevant to the kind of jobs that you want and above all, do not lie!