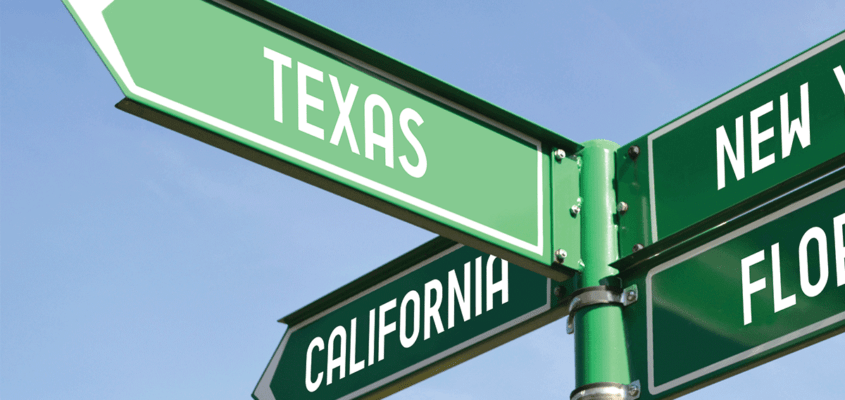 California & Texas Have The Most Opportunities for Tech Talent
Employers across the United States are hungrier than ever for great tech talent. But, if we look at data from Burning Glass, which analyzes millions of job postings from across the country, we can see that California & Texas are the top 2 states for job opportunities for technical professionals right now.
California
With a whopping 164,540 job postings for technical positions from July to September of this year, the state of California is still America's premier technology hub overall. But, even outside of Silicon Valley and San Francisco, areas like Los Angeles and Orange County are host to a ton of tech companies and startups, which provides plentiful opportunities for technical professionals. And, while cost of living in California is high, their average 2018 tech salary according to Dice was a respectable $105,953 which can help make up for higher housing expenses and taxes.
Texas
If you're looking for a huge pool of job opportunities or if you're an employer looking for a large pool of technical talent, Texas is the place to be! Between July and September of this year, there were 76.433 open technical positions. With more affordable cost of living and no state income tax, the average 2018 tech salary of $89,277 stretches a little farther here. Plus, Dallas ranked highly on SmartAsset's Best Cities to Work in Tech list based on a favorable average wage to cost of living ration.
Employers and tech talent alike are starting to see what we at Camden Kelly have seen for years, the tech job markets in California & Texas are hotter than anywhere else in the country! If you're looking to relocate to an area with a wealth of job opportunities for a technical professional like you, these two states should be at the top of your list. And, if you're an employer looking for a larger pool of available technical talent, it may be time to follow in Uber, State Farm, or Toyota's footsteps and relocating to an area like Dallas.