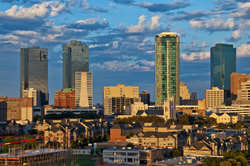 Camden Kelly Corporation Opens Fort Worth Recruiting Office
Camden Kelly Corporation, a woman owned IT Recruiting & Staffing Firm, is pleased to announce it has opened a new Fort Worth location on March 1, 2014. The new branch will accommodate the growing demand of companies in search of Information Technology Professionals in the Fort Worth area. Manager Katy Imhoff says, "Many small, growing businesses and larger, expanding companies in the Metroplex area have played an integral part of our rapid growth over the last year. This 2nd location will complement and enhance the service received by both our clients and job candidates."
The new branch, conveniently located near interstate 30, will serve as an excellent meeting place for clients and Information Technology candidates in Fort Worth and the Mid-cities. Located at 5601 Bridge Street, Suite 300, this branch is the second Camden Kelly location in Texas, the first of which opened in Richardson in 2013.
Katy Imhoff, Manager, says, "We are very pleased to further our reach and provide our services to local businesses and job seekers in the Fort Worth area, and are optimistic about the future."
Camden Kelly Corporation provides Information Technology Professionals such as Software Developers and Engineers, Web Developers, Database Developers and Administrators, Systems and Network Engineers, and many other types of technology related professionals to local businesses in the Metroplex. You can reach the Fort Worth office at the address and phone number below.
Camden Kelly Corporation – Fort Worth
5601 Bridge Street
Suite 300
Fort Worth, TX 76112
Telephone: 817-953-3570
Contact
Chelsea Babin
Camden Kelly Corp. 
+1 972-643-8848